all of today's pictures are courtesy of Creative Kismet
Have you ever wondered what it's like to be artistically talented? If you're like me you have. Oh sure, I can doodle a stick person here and scratch out a semi-recognizable animal there, but to really have that vision, that finished piece of art already mapped out in my head and then to also have the talent to get from blank canvas to completed work of art...uh, no.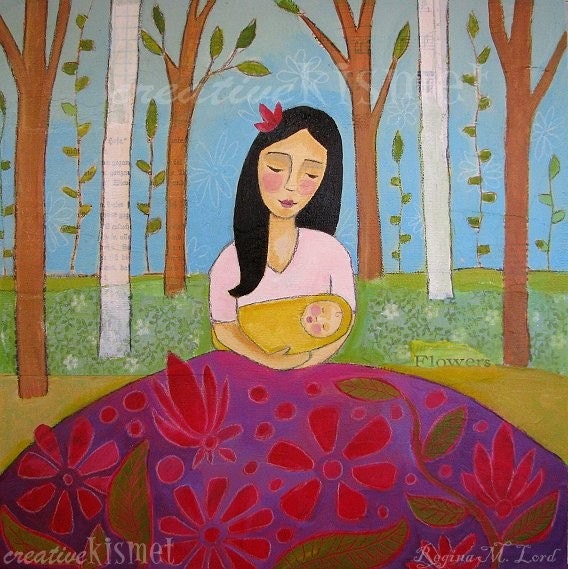 I don't have that. Is it something you're born with? Maybe you can be born with incredible talent and it just lies dormant in your brain until by some miracle it's awakened.
Maybe it's something that can be learned, or trained into your creative brain. I don't know. What I do know is that Regina of
Creative Kismet
is crazy talented. And super nice, by the way. We've emailed back and forth a few times and she has been nothing but sweet and generous. My girls actually think I'm famous now because she's my blogland friend...and after all she was on TV with Martha Stewart. So by default, that makes me famous...right? Anyway, I have loved her artwork since I found her blog a couple of years ago.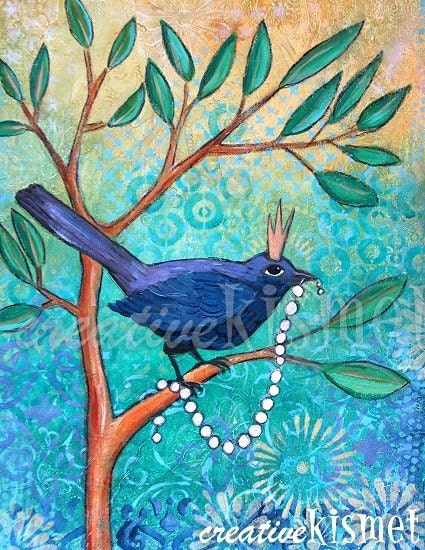 I'd love to have her art all over my house. Her mixed media art, her color palette, her style. I love it all. Here are a few of my favorite pieces that she has for sale in her shop.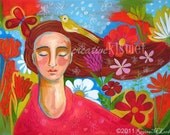 Now, if you want to see something that I found completely fascinating and inspiring you've got to check this out.
I am Home from Regina Lord on Vimeo.
It's a video that Regina made called "I Am Home"...starting with a blank canvas and ending up with a wonderful work of art so we can see what she does and how she does it. It's like peeking in the window of her studio and catching a glimpse of how she navigates through the creative process. One of my favorite parts is how you can see that she changes her mind several times throughout the process so that it comes out just right.
A couple of weeks ago I was blessed enough to win a giveaway of one of her prints from Jennifer on the blog
JCasa Handmade
. I got to choose a print and this is what I chose.
I'm so excited! It should be here any day now. If you love this print, you can enter for a chance to win one too by going on over to Regina's blog
Creative Kismet
. Just leave her a comment and you'll be entered to win. And if you want...and I know you will...check out her
shop
and see everything else she has created. You won't regret it. Your wallet might, but not you.Hmmm, makes me want to pick up a canvas and give it a whirl. How about you? xoANG